Public administrations are usually more reluctant to adopt processes based on new and innovative technologies than private actors. This is because these processes can have shortcomings or pitfalls that are not immediately apparent. Also, new processes can raise new questions and challenges for public decision-makers such as data security and protection against hacking. Public actors however must keep pace with the digitalisation in the private sector not to create bottlenecks for digitalisation in the country.
'Géoportail' (Geoportal) is an online platform providing and summarising geographic data for multiple user groups. Set up by the land register and topographic administration of the Grand Duchy of Luxembourg, it was launched in 2011 to increase transparency, digitalising information and making it more accessible for users.
Rationale for action
Geographic data used by public administrations is often not simply accessible to the public. Some data is classified as confidential, some is not confidential but is unavailable to the public. This can be due to missing platforms, complex query processes, etc. New communication technologies can make such data easily accessible.
Data often lie in different repositories without being coordinated and combined. Making them accessible, with a focus on standardising data types, data categories, metadata and so on, creates a database from which more than the public benefits.
The Géoportail was set up provide open source access to publicly owned, geographic information. Making this available follows the European Union policies in the INSPIRE directive (INfrastructure of SPatial InfoRmation in Europe) from 2007. By making data openly accessible, free to use and reuse, governance processes and decisions become more transparent for citizens.
Objective
The idea behind Géoportail is to harmonise public geodata from different institutions (i.e. the environment ministry and the ministry in charge of the land register). The online geodata system provides individual users, professional users and developers with multiple functionalities. Individuals can for example easily access cadastral, topographic information and also information on infrastructure, environment, tourism, land use plans. Information displayed on the Géoportail can be exported to either PNG or PDF format for individual users.
In addition to this, professionals and developers can use other functionalities the Géoportail provides. These are for example the applications of MAP API and MAP APIV3 that allows spatial information to be retrieved for the use on external websites, access aerial images, plan routes, track a surveying request and much more.
Not only the geodata is made available to the public by storing it in the Géoportail, it also assists state services by giving them additional information through a multi-level access system. For example, notaries in Luxembourg can query the full information of land owners on the land register, whereas the public would see only the name and post code of the owner.
Time Frame
2011 – ongoing (2021), constant updates
Key players
Ministries, especially the Ministry of the Interior, the Ministry of Energy and Spatial Planning, the Ministry of the Environment, Ministry of Agriculture, plus the land register and topographic administration, data suppliers and municipalities.
Implementation steps and processes
In 2010, development started, which was finalised January 2011 when the Géoportail was published. In May 2011, the application for mobile devices was released. Regular updates continue to improve the platform and introduce new functionalities, such as the possibility to measure distances and surfaces, introduced in 2015. Géoportail was implemented through tendering for the required services.
Results
Géoportail is accessible through the web. The modular platform can be used for multiple forms of spatial data. For the Tour de France 2017, Géoportail was used to show the route of the race in Luxembourg for example. It has also stored information on the road network and infrastructure, built-up environments, water courses, soil types, locations of public infrastructure, land register parcels, hunting areas, points of interest and much more. It recently incorporated points of interest from the Editus portal, the yellow pages in Luxembourg. The platform provides different information for different users. Private individuals can access all the above material and professionals working with geodata such as notaries for instance can access more data.
Following the reform of the spatial planning law in 2003 and the step-by-step finalisation of the PAG (local land-use plans), the portal also provides information on planned land-use. Municipalities must upload their local land-use plans onto the platform in a special format so the results of participation and planning processes are available to the public. The PAG are uploaded for each municipality so the entire country is covered.
Experiences, success factors, risks
Géoportail is a successful and user-friendly attempt to make public data accessible. It represents a platform that makes it possible to integrate any type of spatial data in the future to different user groups. It also permits for the integration of data on specific events such as the Tour de France.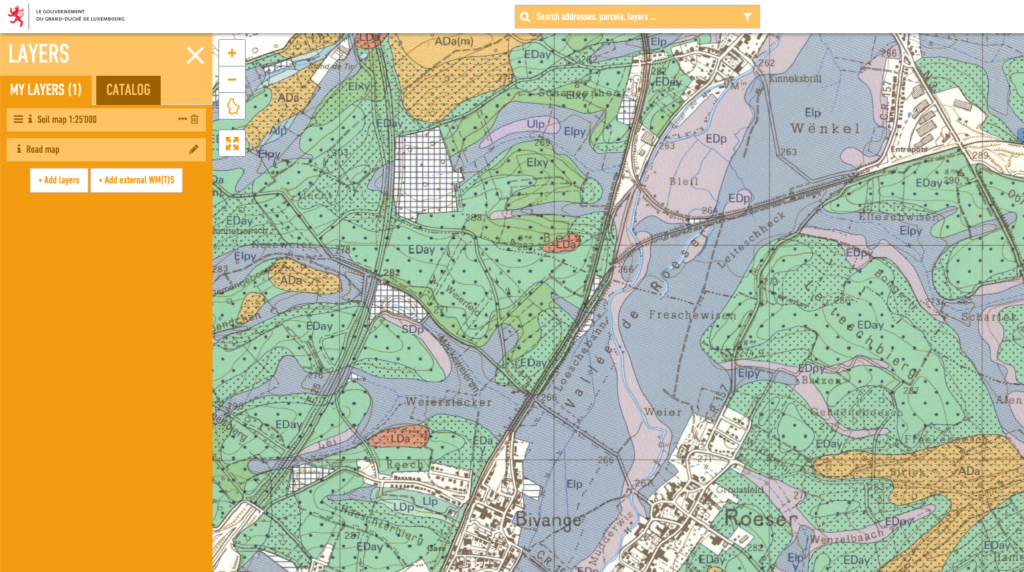 Conclusion
Key to successful implementation of such an online platform is user-friendliness. A complicated portal risks becoming a 'data dustbin' where data is provided but not used. Simple design and layout are important. This applies not only for individuals who can export data in a common file format (PDF, PNG, JPG, etc.) but also professionals, who need to work with exported information (SHP, TIFF, GDB, etc.). Géoportail is also fully integrated into the OpenData Portal of Luxembourg, making it possible to easily amend or complement information.
Contact
E-mail address of the land register and topographic administration: support.geoportail@act.etat.lu
References
Géoportail website: https://www.geoportail.lu/en/
Website of the land register and topographic administration of the Grand Duchy of Luxembourg: https://act.public.lu/fr/index.html