Esch-sur-Alzette is the second largest city of Luxembourg and has a rich industrial heritage. Not least because of this heritage, the city is currently undergoing a significant transformation. At the forefront of this process is the visionary project Rout Lëns. Aimed at revitalising a former industrial site, Rout Lëns is set to become a sustainable and socially vibrant neighbourhood.
Aim
Population projections estimate that by 2050, the city of Esch will almost double to 220,000 inhabitants. To meet this growing demand, new infrastructure is needed. Rout Lëns fits this dynamic perfectly. The project will revitalise a disused industrial site of 10.5 h and transform it into a sustainable and liveable neighbourhood. The overall objective is to create a harmonious balance between urban development, community engagement, and environmental sustainability. The project seeks to develop a vibrant, inclusive, and environmentally conscious space where residents can live and work. In addition, the neighbourhood is being developed in the sign of social and intergenerational diversity. The visionary approach pursues the following objectives and aims to create:
A strong territorial identity: building a strong community aligned with the industrial heritage and rehabilitating it.
A simple and fluid daily life: enabling a dynamic and convenient life for residents through technological innovation, soft mobility and logistics.
A territorial, human and cultural link: encouraging initiative by connecting people and different users of the space such as residents, visitors, employees, shop owners and neighbours.
A resilient neighbourhood: creating a sustainable community and space with high adaptability to challenges and changes.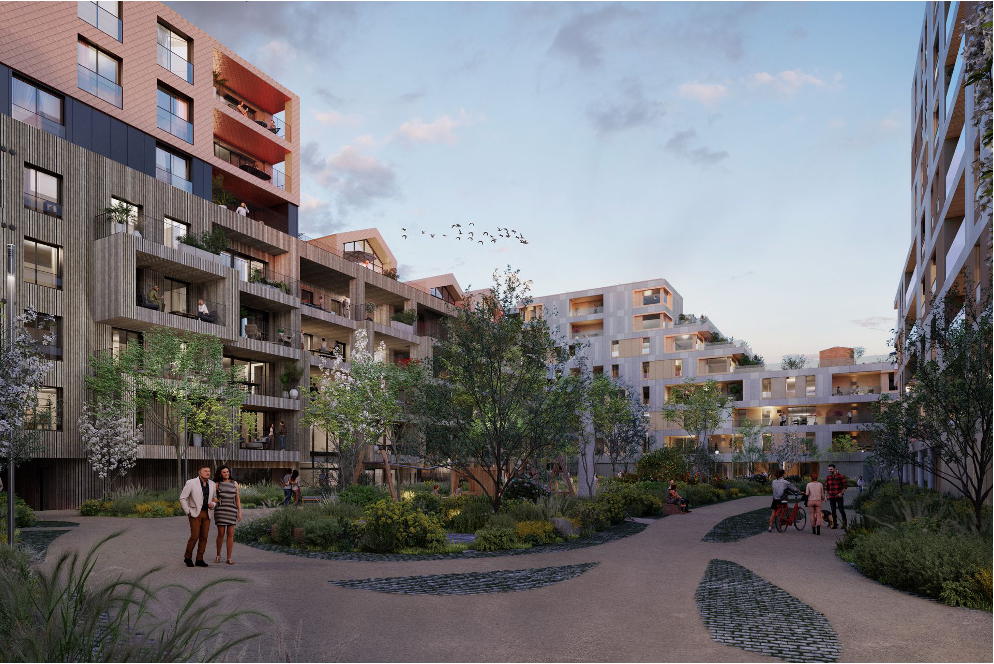 Partnership
The Rout Lëns project is driven by the collaboration of various stakeholders and in close cooperation with the municipality. IKO Real Estate leads the project, supported by the architecture-urbanism agency Reichen et Robert & Associés, along with the landscaper Agency Phytolab. For the first two buildings Tatiana Fabeck and Carta Reichen and Robert & associés were contracted. The participatory process is guided by CityTools, an agency specialised in sociological and urban planning projects that incorporate local community input. This partnership ensures that the development of Rout Lëns remains aligned with the needs and wishes of its future inhabitants. Furthermore, the project is aligned with the Luxembourg government's sector plan for housing, and the city of Esch-sur-Alzette has acquired almost 300 housing units, ensuring that 30% of the housing in the new district will be affordable housing.
Activities
The implementation of the project follows four founding pillars:
The urban structure – Industrial Culture Alley: The "Allée de la Culture Industrielle » will be a pedestrian route linking the five industrial heritage facilities which have become user-friendly, multifunctional places (Magasin TT, Halle des Turbines, Halle des Soufflantes, Portique de la Mollereï et Poste d'Aiguillage).
The built form – A stratified neighbourhood: a variation of building height will give multifunctionality to each stratum and diversity of uses such as hanging gardens, urban gardening, terraces, unobstructed views and a different atmosphere at each level of altitude.
The place of nature – A vegetal feeling: The masterplan of Rout Lëns prioritises well-being and nature in the real-estate project by e.g. planting almost 700 trees in the district.
A sustainable & innovative neighbourhood: the district will be adjusted towards innovation in terms of sustainable mobility, architecture, urban development, and energy supply consumption including waste management, urban farming and circular economy approaches.
The development of Rout Lëns is a participatory process that actively involves the local community. Through surveys, workshops, and consultations, residents and stakeholders had the opportunity to contribute their insights, ideas, and concerns during the first phases and will continue during its further implementation. This inclusive approach empowers the community to shape the future of their neighbourhood, fostering a sense of ownership and local identity.
The project includes housing of all sizes, from studios to flats with 1 to 4 bedrooms, including low-cost accommodations. The integration of affordable housing supports the project's aim of creating a high degree of social mix within the neighbourhood. Although 81% of the area is dedicated to housing, it will not be only a residential neighbourhood since other uses will be included, such as schools, community and public services, shops and private services as well as offices and shared workspaces.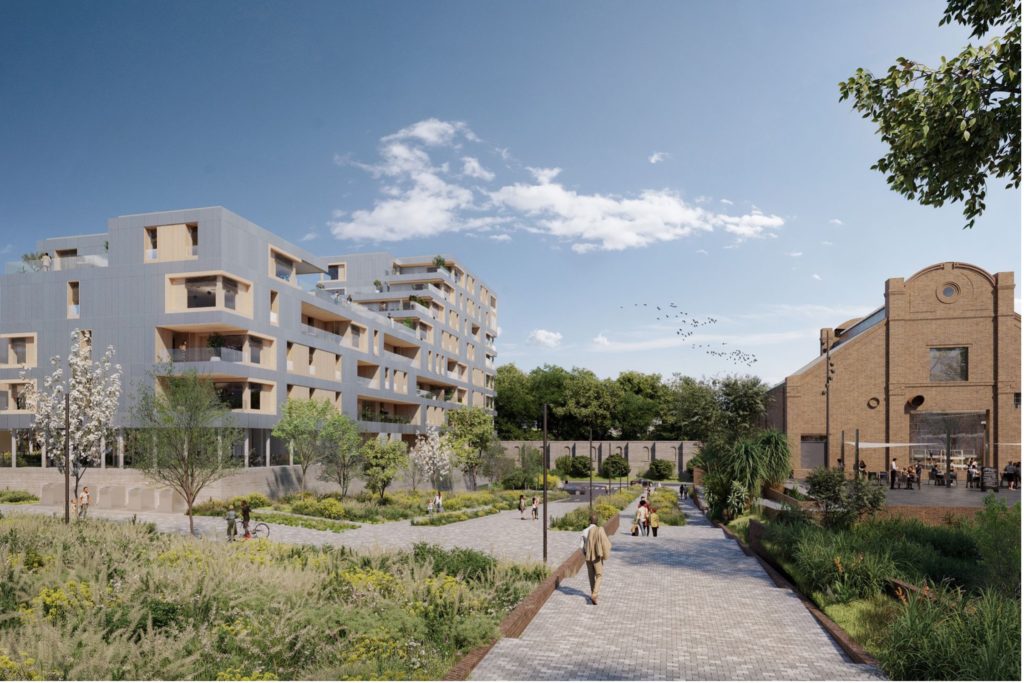 The Well Community certification guarantees that all buildings developed in Rout Lëns meet high-quality standards, focusing on the well-being of the residents. The certification prioritises air and water quality, natural light sources, and overall physical and psychological comfort. The incorporation of green spaces, including an urban forest, flower-filled meadows, and small habitats, will enhance biodiversity and provide pleasant environment with high quality of stay.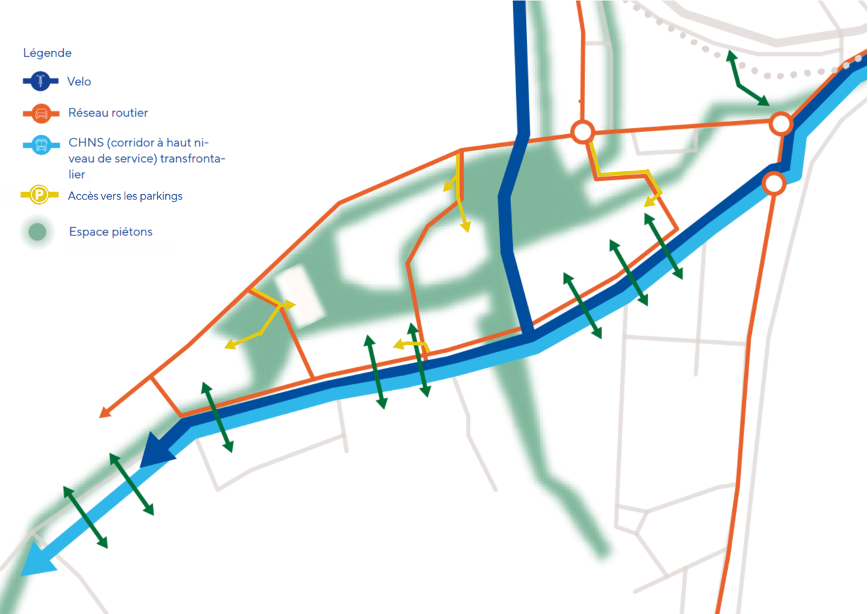 Soft mobility solutions will be prioritised to encourage sustainable transportation options, such as walking, cycling, and public transportation. A comprehensive network of shared mobility services, cycle paths, Bus Rapid Transit (BRT) and a high-speed tram line will ensure convenient accessibility to and within the neighbourhood. The connectivity and spatial planning are designed to align the new neighbourhood with surrounding residential areas and extend the city centre instead of depicting any competition for the rest of the city. In addition to that, the district is planned to be carbon-footprint-neutral and will try to recover grey water (wastewater from showers and sinks) and it will be supplied with geothermal energy. You can learn more about the energetic concept of the project in the first session of the CIPU lecture series from May 2023. You can find the recording here: https://www.youtube.com/watch?v=G88Gm22oHy4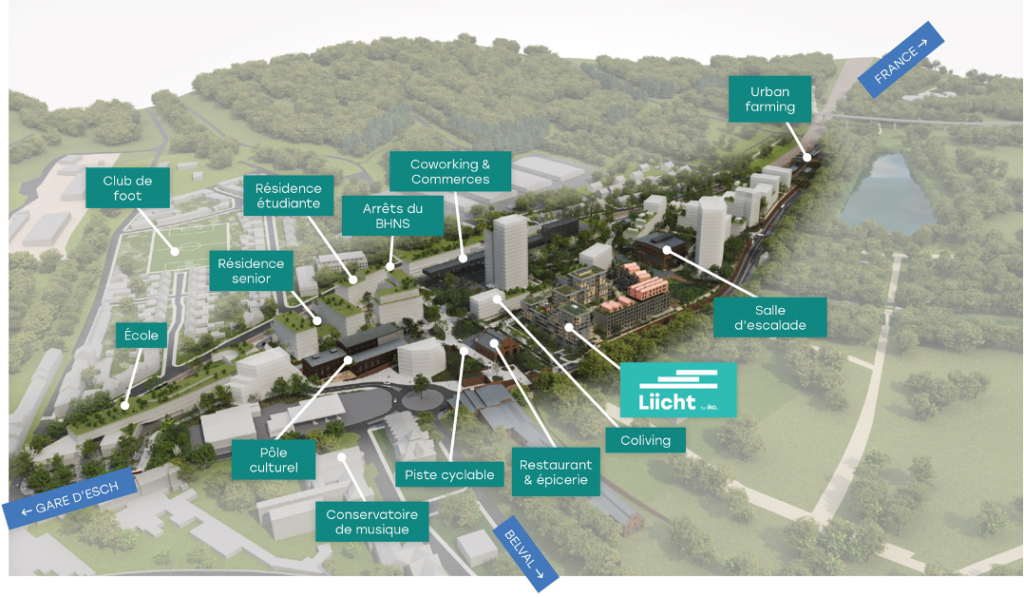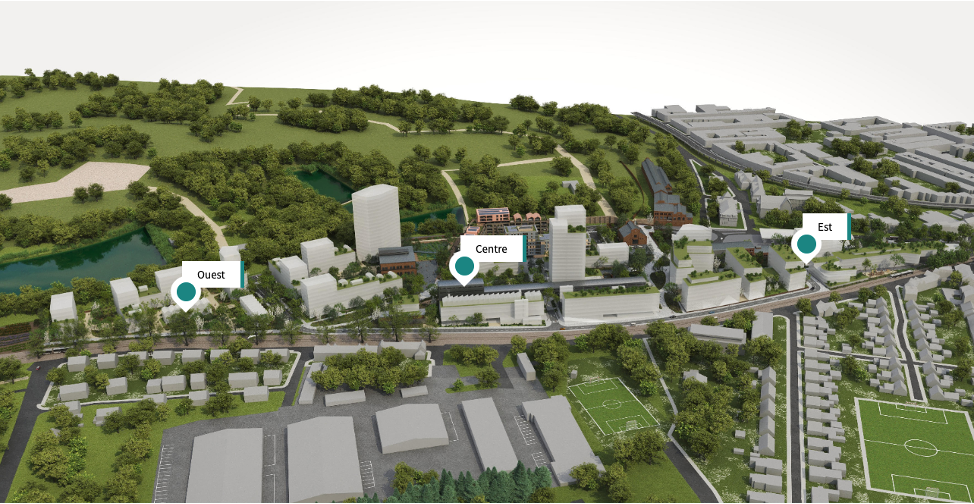 The district will be constructed in three phases. The Eastern part will be constructed from 2024-2029, followed by a transition phase in 2028 resulting in construction phase 2 and 3 from 2030-2033. This way, certain sectors will be functional and habitable before the whole neighbourhood will be finished in 2035.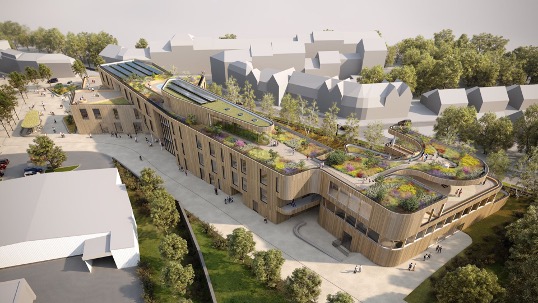 Outlook
Rout Lëns is a transformative project that envisions a sustainable, resilient, and socially inclusive neighbourhood in Esch-sur-Alzette. By combining innovative design, community engagement, and environmental management, Rout Lëns is set to revitalise the former industrial site into a liveable urban space. The project's commitment to open-mindedness, innovation, inclusion and heritage is reflected in the four pillars of its vision. The realisation of Rout Lëns as is good practice of revitalising an industrial site and creating a sustainable and innovative urban space aligned with its heritage.
If you want further information and get a glimpse at how the district is going to look like, you can find more information, maps and visual material on the official website where you can also subscribe to the newsletter.
Contact
Rout Lëns: info@routlens.lu
IKO Real Estate: communication@ikorealestate.eu
References